You know that old myth about shaving your hair and it growing back in thicker and darker? There's a reason it's referred to as a "myth". It simply isn't true.
Shaving your face offers plenty of benefits! When you shave off your peach fuzz, you also are exfoliating your skin by scraping off all the dead skin cells chillin' on the surface of your face. It's like a DIY dermaplaning treatment, but without the copay and all that doctor stuff. Easy, cost effective anti-aging treatments, anyone?
Other than the awesome skincare benefits, having smooth, hairless skin is the ultimate way to prep your "canvas" before makeup application. Without those baby hairs (vellus hairs, if you want to get scientific with it), your makeup will adhere to the skin A LOT better and will probably last twice as long than with all those lil' peach fuzzies.
Let's get started, shall we?
What you will need:
Face Wash

Moisturizer/Face Lotion

Eyebrow Razors

Post-Shave Skincare Treatment (optional)
Before you do anything, make sure you wash your face with a gentle, simple facial cleanser.
My current cleanser of choice is the "Cleansing Foam" by DHC Skincare, a Japanese Beauty brand. I'm still trying to get over the fact that it's about $10.
I first discovered this little guy at Riley Rose, a cute beauty & lifestyle store owned by Forever 21. They sell a lot of "Instagram brands" & TONS of Asian Beauty products. There aren't many storefronts in the US just yet, as they are only a year old so I'm SUPER lucky there's one at the Glendale Galleria (my local mall).
Anyways, this facial cleanser is perfect for all skin types, even sensitive. It's full of amazing ingredients that are full of antioxidants, soothing & hydrating, which is perfect for shaving & exfoliating your face
This step is very important! You DO NOT want to dry shave. I'll say it louder for y'all cuties in the back, DO NOT DRY SHAVE. This will only increase your chances of cutting/nicking your face with the blade and it will defeat the entire purpose of all of this.
My face lotion of choice is the "Evercalm Rescue Mask" by REN Clean Skincare. Even though it is technically a face mask, it has a creamy lotion-like consistency so it works well with the razor. The ingredients are all "clean" and helps with soothing the skin & alleviating redness & irritation. Plus, it's a cruelty free product!
By working in sections of your face, slather on enough of your face lotion to the point where it feels like a thin layer sitting on the skin. This will help the blade not get gunky with product.
Real quick, we are not using a regular body razor. The razors to be used are designed specifically for use on sensitive areas like the face & bikini line.
There's no particular brand I go for. I usually just purchase them whenever I come across them. From Sephora, to the Dollar Tree & Daiso, and even Marshall's, you are bound to find these little blades.
Quick Links:
Don't forget to get your actual hair out of your face prior to shaving!
SHAVE TIME!
When we shave our body hair, we typically tend to shave against the grain. Shaving your face is a bit different. Instead of going against the hair, shave in the same direction that the hair is growing. This will prevent the hair feeling like it's growing back stubbly. If the hair grows down, you shave downwards. It's easy! Work in sections and take your time. I start off with cheeks first, then lip & chin.
Make sure you do short strokes, shaving in small sections. If you've ever gotten threaded before, they usually have you taut your skin. This technique really helps you get a close shave and it's a lot harder to cut yourself.
OH! Also, you're going to need tissue paper or a napkin to wipe the blade clean inbetween sections.
Nose & Forehead?!
YES, I'm highly recommending to go beyond shaving your cheeks, chin & lip by taking the razor to your NOSE & FOREHEAD! Might as well finish the job, don't you agree?
Same shaving rules applies: go along with the hair growth, in short strokes, take your time, yada yada yada. I think you've got the point by now.
FINAL STEP: Rinse off
No need to wash your face a second time. Just take a washcloth dampened with warm water and rinse off the excess lotion left on your skin.
How's your skin feeling? I BET IT'S SMOOTH AF.
Wanna take it a step further?
In my video, I mention that exfoliating your face via shaving helps skincare products absorb a lot better into the skin. After every "shave session", I always like to treat my skin with a mask. Sheet masks are probably my favorite post-shave.
Speaking about sheet masks, I chose to use Patchology's "Smartmud No-Mess Detox" sheet mask this time around.
It's basically a mud mask but in the form of a sheet mask which is supposedly "Mess Free". I'd never used this product before, so I had no idea what to expect.
This sheet mask has two parts to it. One half for the upper portion of your face, and the second half for the bottom. This helps the sheet fit the contours of your face better.
The main detoxing ingredients in this product are volcanic ash, Kaolin clay & activated charcoal. It also has hydrating ingredients like glycerin & collagen.

But was it mess free?
Yes, actually! Pretty mess free in my opinion. Other than my own personal struggle (refer to the video at the top of page), it was very easy & simple to use. Even during rinse off, I couldn't believe this was technically a mud mask. Those are usually so messy, so this was pretty cool to have an "easy" version of a clay/mud mask.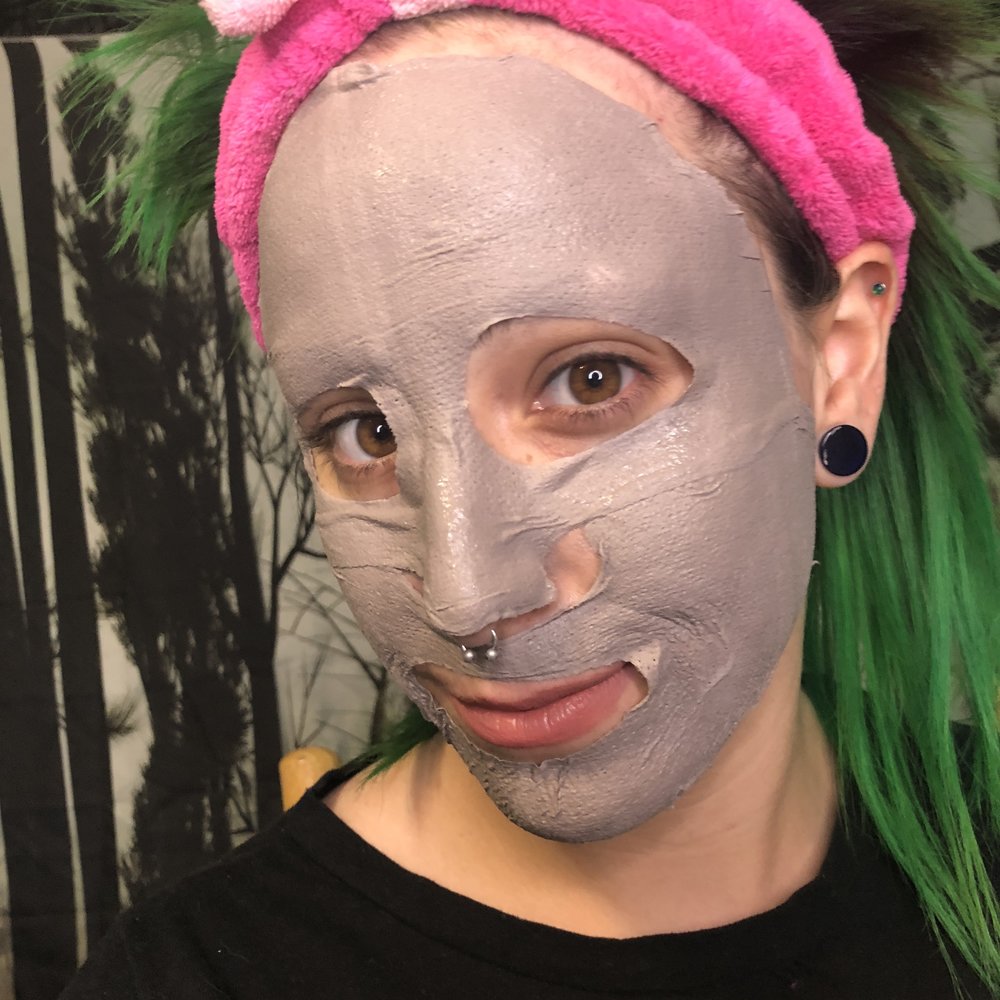 Once your mask is on, just leave it for about 10 minutes. The packaging says you can go longer than that time frame, but after the 10 minute mark, the sheet felt stiff & dried.
10 minutes came & went. When I peeled off the mask, there was a small layer of product left on the skin, which you're supposed to rinse off. I used the same washcloth from taking off the Evercalm Rescue Mask to rinse this guy off.
Final Thoughts
After rinsed off, I immediately saw a difference in my skin. It felt radiant, soft and even looked brighter. This is what my skin looked like after rinsing, and before going through with my normal skincare routine. Also, don't mind my insane hair that decided to take shape whilst wearing my skincare headband.
I highly recommend this mask! I can't wait to use another one when the time comes around. It doesn't leave your skin feeling tight & dry, but it is definitely detoxing. Patchology FTW!!
*DISCLAIMER: I am not sponsored by any brand, nor was I paid to create content based on product reviews & recommendations. I bought & used these products on my own terms. This is my personal, honest review.